Please note that surface mail ( which is included in our prices ) can take longer to some countries.
In case you prefer additional AIR MAIL, please send us an e-mail and we can tell you the extra costs for your parcel.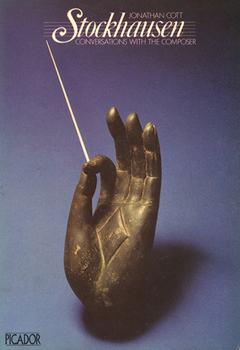 Jonathan Cott: STOCKHAUSEN
Conversations ( in English )
10.50 €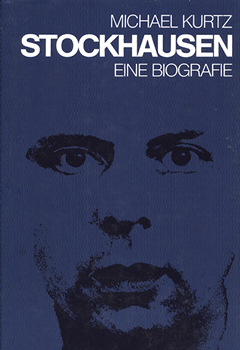 Michael Kurtz: Stockhausen.
Eine Biographie ( in German )
14.50 €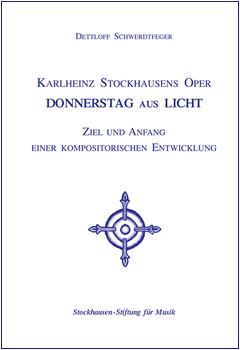 Dettloff Schwerdtfeger
DONNERSTAG aus LICHT ( in German )
20 €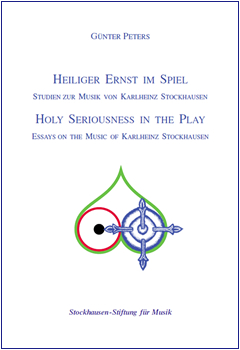 Dettloff Schwerdtfeger
DONNERSTAG aus LICHT ( in German )
49 €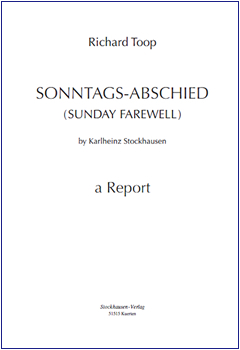 Richard Toop
SUNDAY FAREWELL - A Report ( in English )
9 €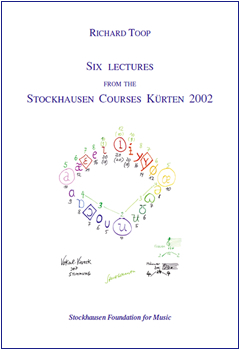 Richard Toop
Six Lectures Stockhausen Courses 2002 ( in English )
49 €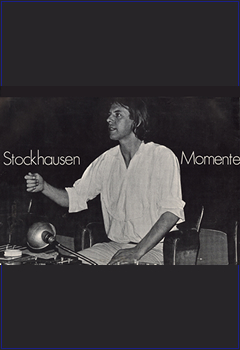 K. Stockhausen
Ein Schlüssel für MOMENTE
69.50 €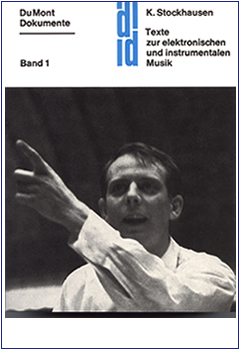 K. Stockhausen Vol. 1
TEXTE zur MUSIK 1963 - 1984 ( in German )
24 €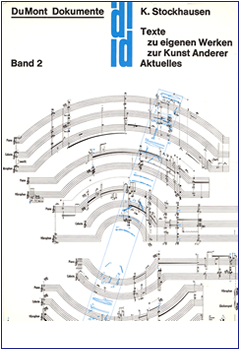 K. Stockhausen Vol. 2
TEXTE zur MUSIK 1963 - 1984 ( in German )
24 €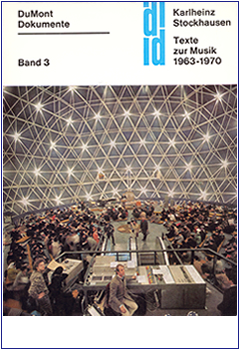 K. Stockhausen Vol. 3
TEXTE zur MUSIK 1963 - 1970 ( in German )
25 €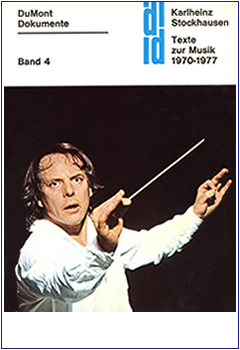 K. Stockhausen Vol. 4
TEXTE zur MUSIK 1970 - 1977 ( in German )
27 €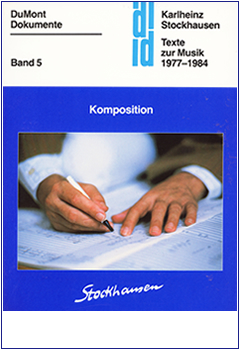 K. Stockhausen Vol. 5
TEXTE zur MUSIK 1977 - 1984 ( in German )
Vol. 5 + Vol. 6 ( 2 Books )
78.50 €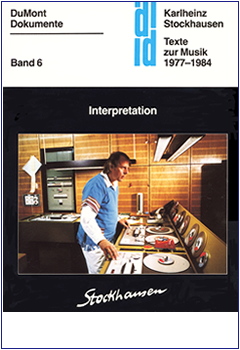 K. Stockhausen Vol. 6
TEXTE zur MUSIK 1984 –1991 ( in German )
Vol. 5 + Vol. 6 ( 2 Books )
78.50 €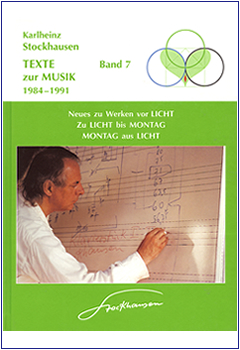 K. Stockhausen Vol. 7
TEXTE zur MUSIK 1984 - 1991 ( in German )
Vol. 7 - Vol. 10 ( 4 Books )
199 €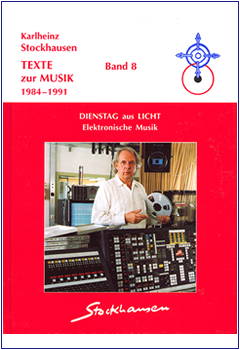 K. Stockhausen Vol. 8
TEXTE zur MUSIK 1984 - 1991 ( in German )
Vol. 7 - Vol. 10 ( 4 Books )
199 €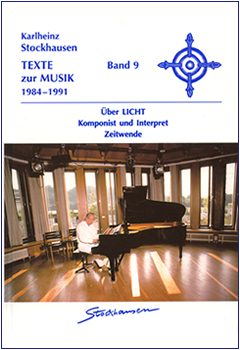 K. Stockhausen Vol. 9
TEXTE zur MUSIK 1984 - 1991 ( in German )
Vol. 7 - Vol. 10 ( 4 Books )
199 €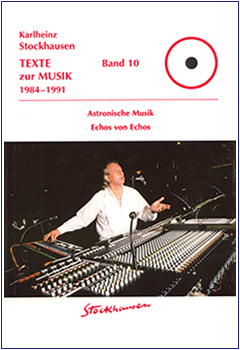 K. Stockhausen Vol. 10
TEXTE zur MUSIK 1984 - 1991 ( in German )
Vol. 7 - Vol. 10 ( 4 Books )
199 €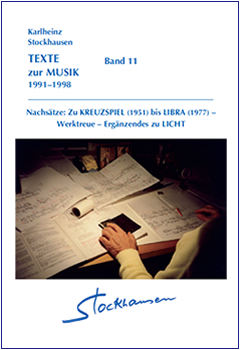 K. Stockhausen Vol. 11
TEXTE zur MUSIK 1991 –1998 ( in German )
50 €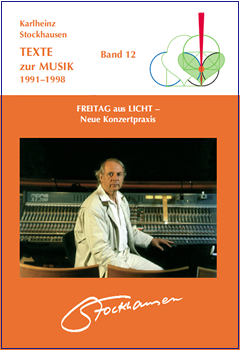 K. Stockhausen Vol. 12
TEXTE zur MUSIK 1991 –1998 ( in German )
50 €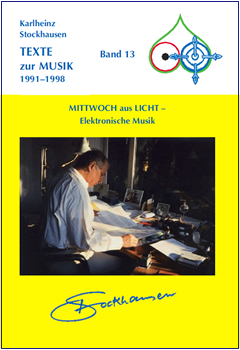 K. Stockhausen Vol. 13
TEXTE zur MUSIK 1991 –1998 ( in German )
50 €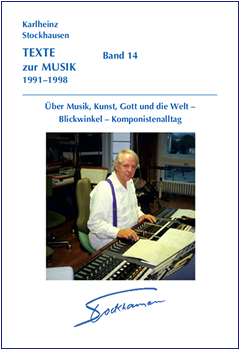 K. Stockhausen Vol. 14
TEXTE zur MUSIK 1991 –1998 ( in German )
50 €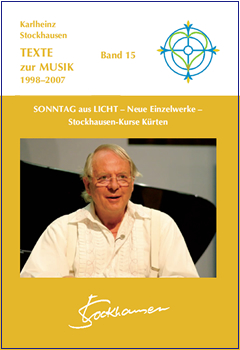 K. Stockhausen Vol. 15
TEXTE zur MUSIK 1998 –2007 ( in German )
50 €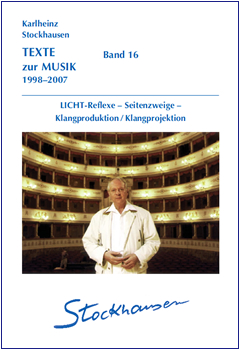 K. Stockhausen Vol. 16
TEXTE zur MUSIK 1998 –2007 ( in German )
50 €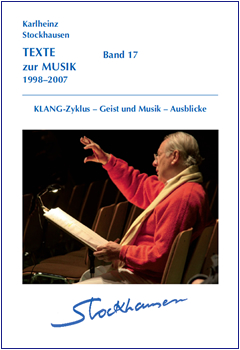 K. Stockhausen Vol. 17
TEXTE zur MUSIK 1998 –2007 ( in German )
50 €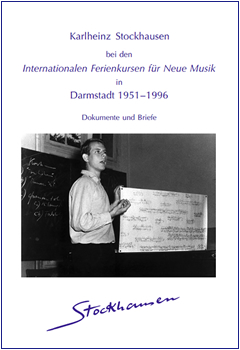 Karlheinz Stockhausen
bei den Internationalen Ferienkursen für Neue Musik in Darmstadt 1951–1996 ( in German )
99 €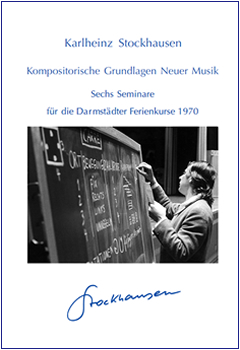 K. Stockhausen
Kompositorische Grundlagen Neuer Musik. Sechs Seminare für die Darmstädter Ferienkurse 1970
50 €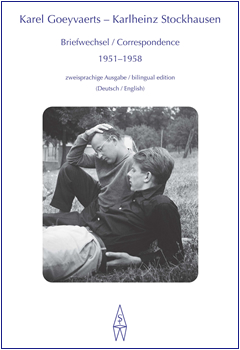 Karel Goeyvaerts – Karlheinz Stockhausen
Briefwechsel / Correspondence 1951–1958
(456 bound pages in German and English, hard cover in colour, many illustrations, Stockhausen-Stiftung für Musik, 2017)
60 €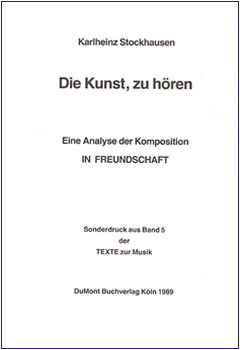 K. Stockhausen
Die Kunst, zu Hören
11 €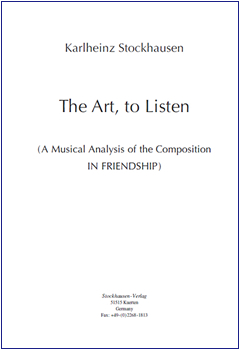 K. Stockhausen
The Art, to Listen
11 €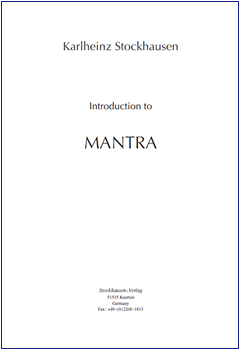 K. Stockhausen
Introduction to MANTRA
13 €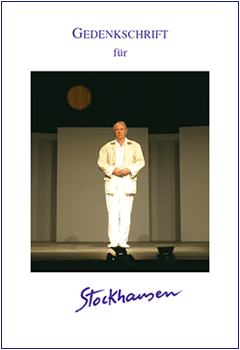 Gedenkschrift für Stockhausen
( in German, English, French, Dutch, Italian )
40 €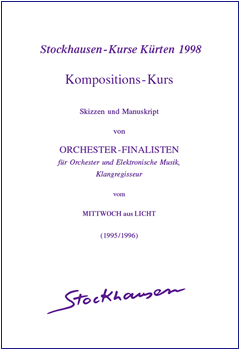 Stockhausen Courses Kuerten 1998
Facsimile edition with sketches of ORCHESTER - FINALISTEN
24.50 €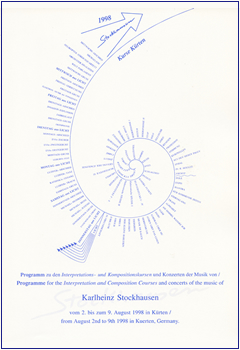 Stockhausen Courses Kuerten 1998
Programme book of the Stockhausen Courses Kuerten 1998
14.50 €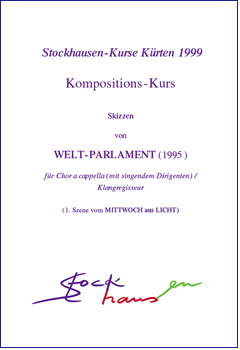 Stockhausen Courses Kuerten 1999
Facsimile edition with sketches of WELT - PARLAMENT
24.50 €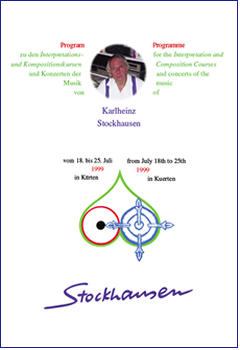 Stockhausen Courses Kuerten 1999
Programme book of the Stockhausen Courses Kuerten 1999
14.50 €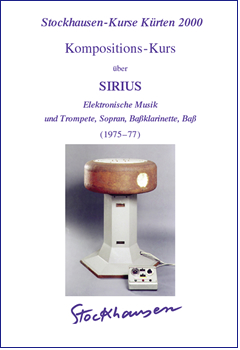 Stockhausen Courses Kuerten 2000
Facsimile edition with sketches and analysis of SIRIUS
24.50 €
Stockhausen Courses Kuerten 2000
Programme book of the Stockhausen Courses Kuerten 2000
14.50 €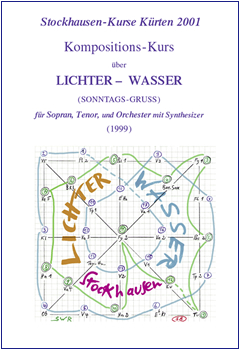 Stockhausen Courses Kuerten 2001
Facsimile edition with sketches of LICHTER - WASSER
35 €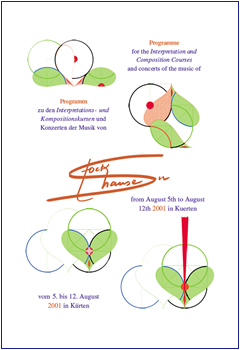 Stockhausen Courses Kuerten 2001
Programme book of the Stockhausen Courses Kuerten 2001
15 €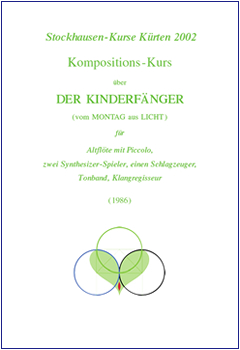 Stockhausen Courses Kuerten 2002
Facsimile edition with sketches of DER KINDERFÄNGER
24.50 €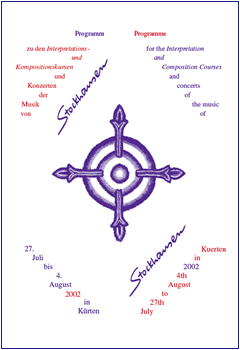 Stockhausen Courses Kuerten 2002
Programme book of the Stockhausen Courses Kuerten 2002
15 €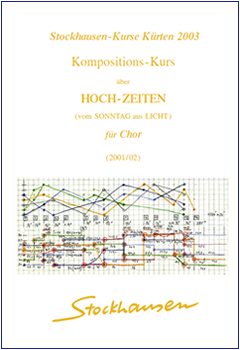 Stockhausen Courses Kuerten 2003
Facsimile edition with sketches of HOCH - ZEITEN for choir
35 €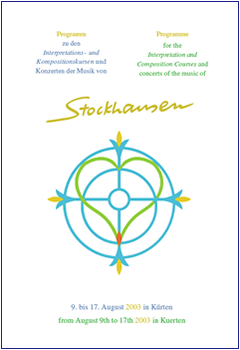 Stockhausen Courses Kuerten 2003
Programme book of the Stockhausen Courses Kuerten 2003
15 €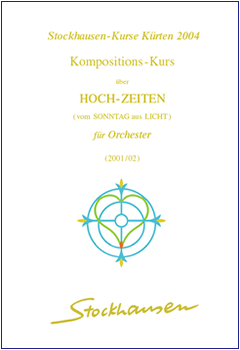 Stockhausen Courses Kuerten 2004
Facsimile edition with sketches of HOCH - ZEITEN for orchestra
30 €
Stockhausen Courses Kuerten 2004
Facsimile edition with sketches of DÜFTE - ZEICHEN
35 €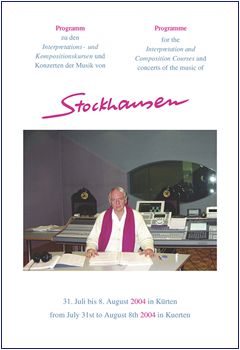 Stockhausen Courses Kuerten 2004
Programme book of the Stockhausen Courses Kuerten 2004
35 €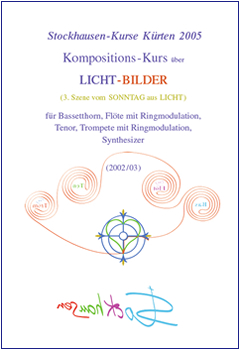 Stockhausen Courses Kuerten 2005
Facsimile edition with sketches of LICHT - BILDER
40 €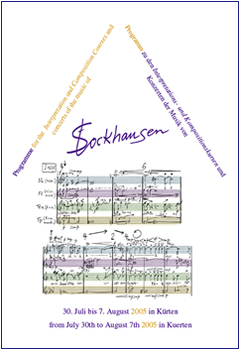 Stockhausen Courses Kuerten 2005
Programme book of the Stockhausen Courses Kuerten 2005
20 €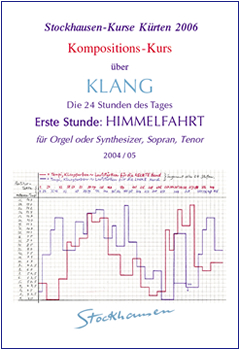 Stockhausen Courses Kuerten 2006
Facsimile edition with sketches of HIMMELFAHRT
40 €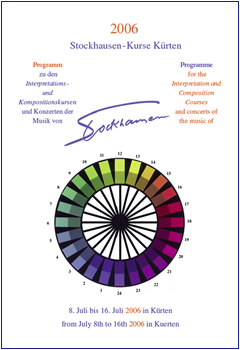 Stockhausen Courses Kuerten 2006
Programme book of the Stockhausen Courses Kuerten 2006
20 €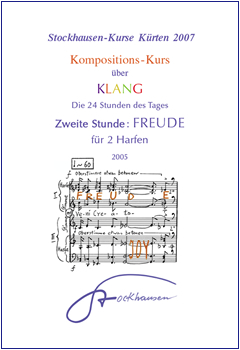 Stockhausen Courses Kuerten 2007
Facsimile edition with sketches of FREUDE
40 €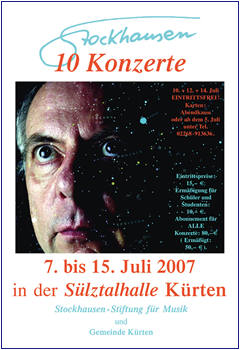 Stockhausen Courses Kuerten 2007
Programme book of the Stockhausen Courses Kuerten 2007
20 €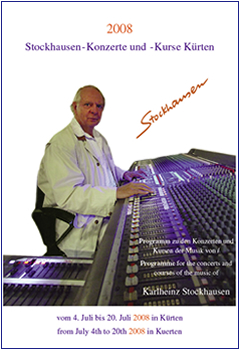 Stockhausen Courses Kuerten 2008
Programme book of the Stockhausen Courses Kuerten 2008
20 €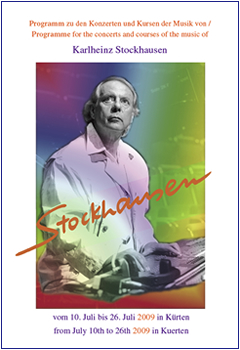 Stockhausen Courses Kuerten 2009
Programme book of the Stockhausen Courses Kuerten 2009
20 €
Stockhausen Courses Kuerten 2010
Programme book of the Stockhausen Courses Kuerten 2010
20 €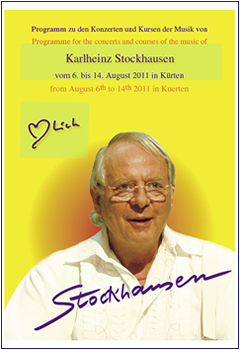 Stockhausen Courses Kuerten 2011
Programme book of the Stockhausen Courses Kuerten 2011
20 €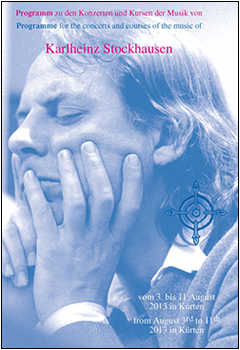 Stockhausen Courses Kuerten 2013
Programme book of the Stockhausen Courses Kuerten 2013
20 €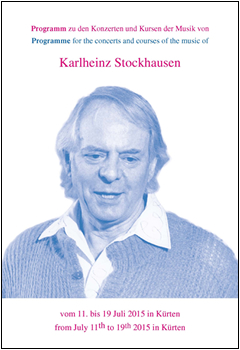 Stockhausen Courses Kuerten 2015
Programme book of the Stockhausen Courses Kuerten 2015
20 €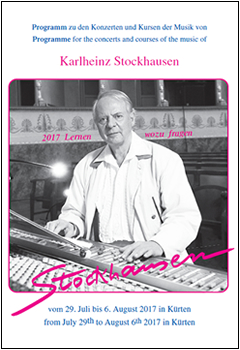 Stockhausen Courses Kuerten 2017
Programme book of the Stockhausen Courses Kuerten 2017
20 €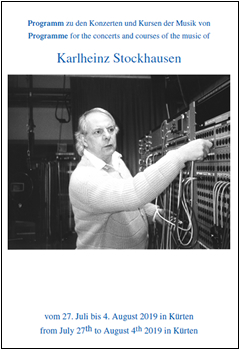 Stockhausen Courses Kuerten 2019
Programme book of the Stockhausen Courses Kuerten 2019
20 €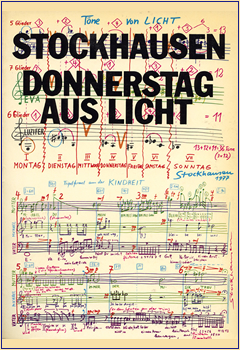 DONNERSTAG aus LICHT
La Scala Milan 1981
41 €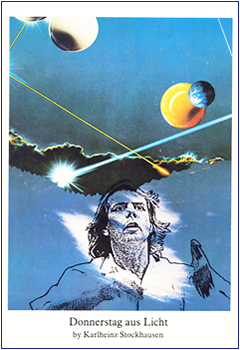 DONNERSTAG aus LICHT
Royal Opera London 1985
41 €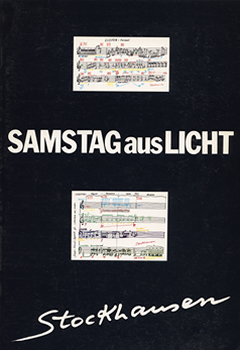 SAMSTAG aus LICHT
La Scala Milan 1984
41 €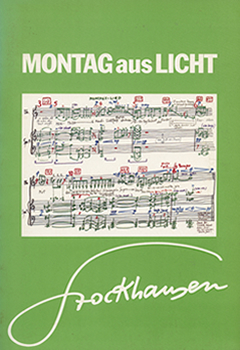 MONTAG aus LICHT
La Scala Milan 1988
41 €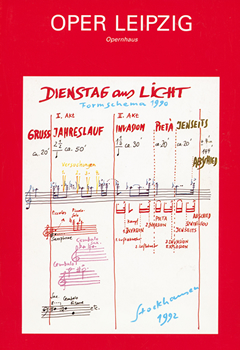 DIENSTAG aus LICHT
Leipzig Opera 1993
41 €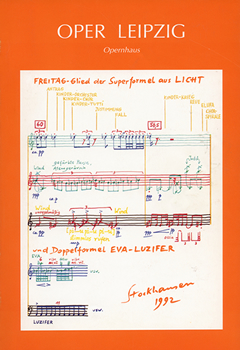 FREITAG aus LICHT
Leipzig Opera 1996
41 €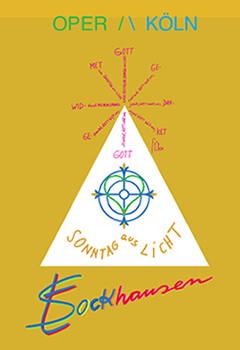 SONNTAG aus LICHT
Cologne Opera, 2011
41 €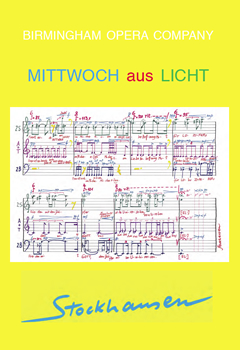 MITTWOCH aus LICHT
Birmingham Opera 2012
41 €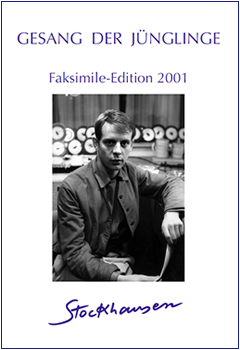 GESANG DER JÜNGLINGE
Facsimile edition with sketches of GESANG DER JÜNGLINGE
199 €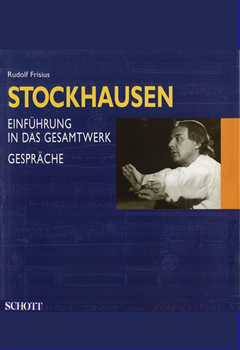 Stockhausen Band 1
By Rudolf Frisius
49 €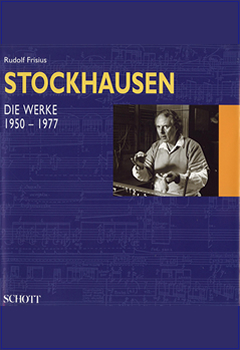 Stockhausen Band 2
By Rudolf Frisius
49 €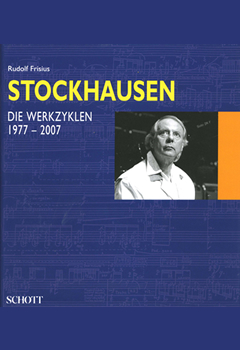 Stockhausen Band 3
By Rudolf Frisius
49 €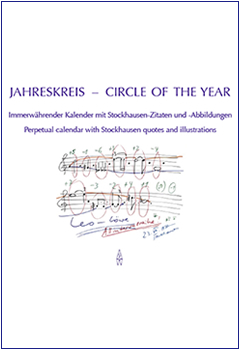 JAHRESKREIS - CIRCLE OF THE YEAR
Immerwährender Kalender mit Stockhausen-Zitaten und -Abbildungen
Text language: German and English
99 €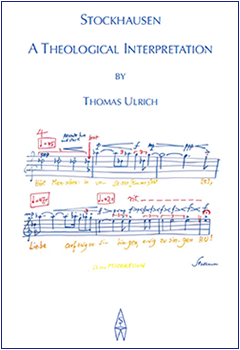 Stockhausen
A Theological Interpretation
By Thomas Ulrich
Text language: English
25 €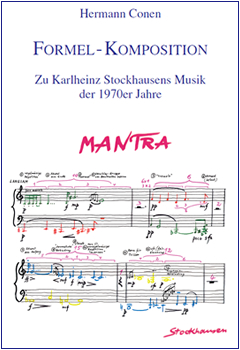 Formel-Komposition
By Hermann Conen 2009
Text language: German
49 €