Please note that surface mail ( which is included in our prices ) can take longer to some countries.
In case you prefer additional AIR MAIL, please send us an e-mail and we can tell you the extra costs for your parcel.
All Stockhausen scores which are published by Universal Edition, Vienna, may also be ordered directly from the Stockhausen-Verlag
The prices of the U.E. scores include a small increase due to PayPal handling costs.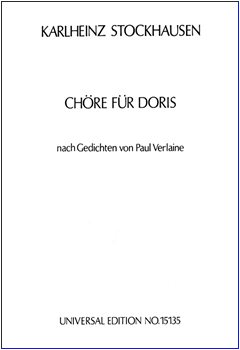 CHÖRE FÜR DORIS
for a cappella choir (cond.) U. E.
17 €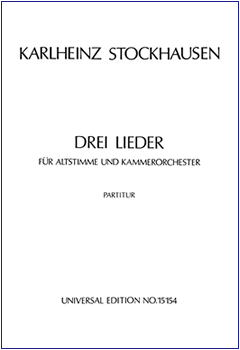 DREI LIEDER
for alto voice and chamber orchestra
(cond.) (fl. / 2 cl. / bsn. / tp. / trb. / 2 perc. /
piano / elec. harpsichord / strings) U. E
47 €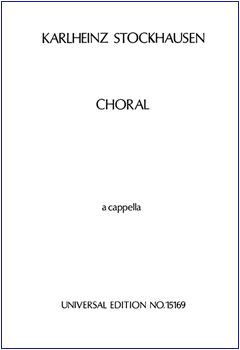 CHORAL
for choir a cappella (cond.) U. E
12 €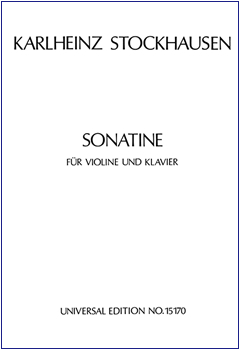 SONATINE
for violin and piano U. E
39 €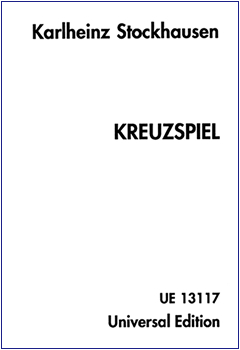 KREUZSPIEL
for oboe, bass clarinet, piano, 3 percussionists (cond.) / sound proj. U. E
44 €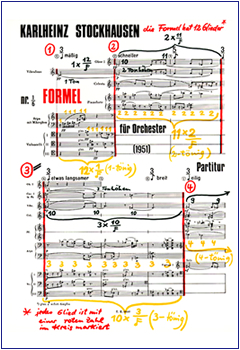 FORMEL
for orchestra [ 28 players ] (3 ob. /
3 cl. / 3 bsn. / 3 hn. / 6 vl. / 3 vc. / 3 db. /
vibr. / celesta / piano / harp) (cond.) U. E
49 €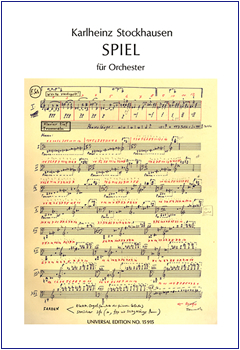 SPIEL
for orchestra (cond.) U. E
82 €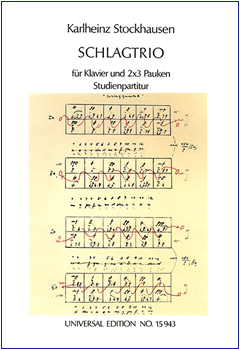 SCHLAGTRIO
for piano and 2 x 3 timpani /
sound proj. U. E
27 €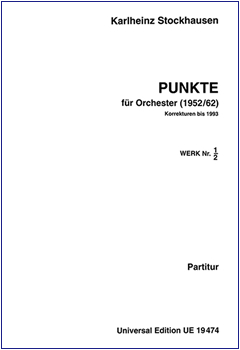 PUNKTE
for orchestra (cond.), corrections
until 1993 U. E
108 €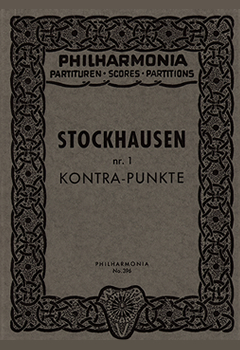 KONTRA - PUNKTE
for 10 instruments (fl. / cl. / bass cl.
/ bsn. / tp. / trb. / piano / harp / vl. / vc.)
(cond.) U. E. Taschenpartitur
(pocket score )
26 €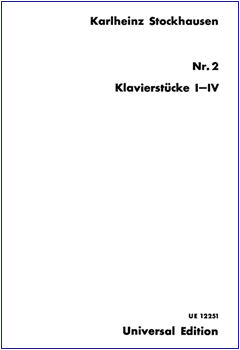 KLAVIERSTÜCKE I - IV
(PIANO PIECES I - IV)
20 €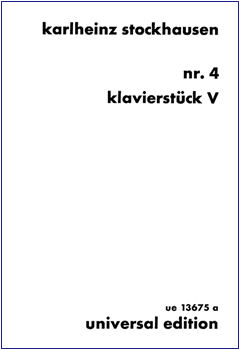 KLAVIERSTÜCK V
(PIANO PIECE V)
23 €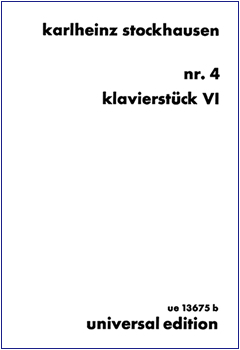 KLAVIERSTÜCK VI
(PIANO PIECE VI)
40 €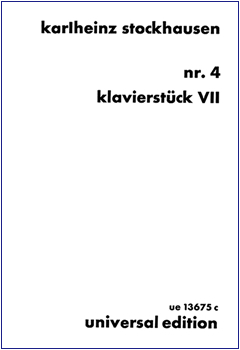 KLAVIERSTÜCK VII
(PIANO PIECE VII)
23 €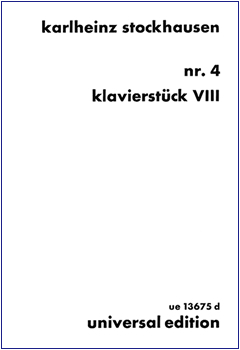 KLAVIERSTÜCK VIII
(PIANO PIECE VIII)
23 €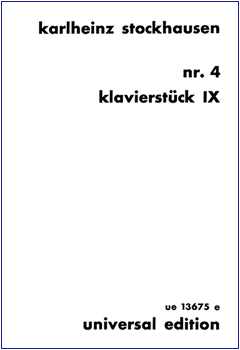 KLAVIERSTÜCK IX
(PIANO PIECE IX)
23 €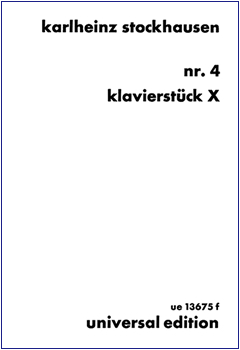 KLAVIERSTÜCK X
(PIANO PIECE X)
40 €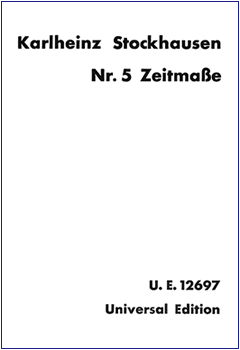 ZEITMASZE
for 5 wood-winds (fl. / ob. / Engl. hn. /
cl. / bsn.) (cond.) U. E.
ZEITMASZE score U. E
57 €
ZEITMASZE parts U. E.
95 €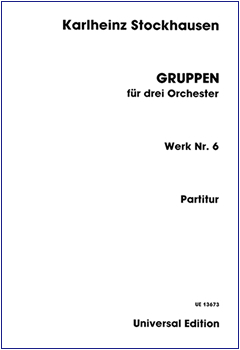 GRUPPEN
for 3 orchestras (cond.) U. E
105 €
KLAVIERSTÜCK XI
(PIANO PIECE XI) U. E
46 €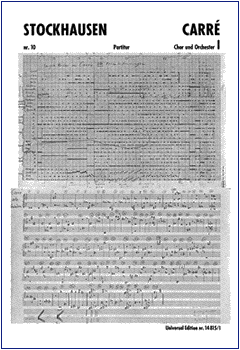 CARRÉ
for 4 orchestras and choirs (4 cond.)
U. E. 4 scores
335 €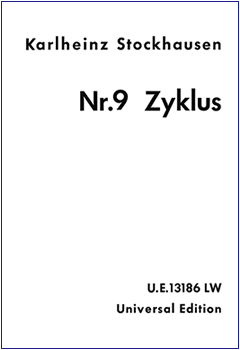 ZYKLUS
for a percussionist U. E
56 €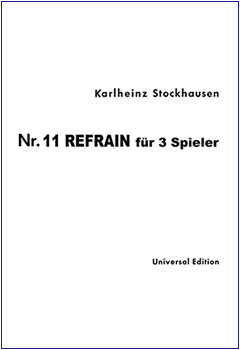 REFRAIN
for 3 players (piano / vibr. / celesta
or synth. / sound proj.) U. E
103 €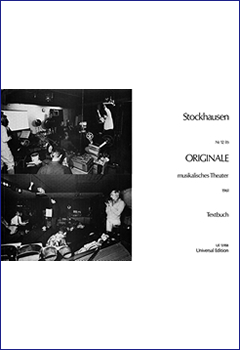 ORIGINALE
Musical Theatre with Kontakte /
sound proj. text book U. E.
score and tape St
37 €
ORIGINALE (ORIGINALS)
new German and English
Musical Theatre with Kontakte /
sound proj. text book
score and tape St
88 €
PLUS - MINUS
2 x 7 pages for realisation
[undefined duration]
34 €
MIKROPHONIE I
for tam-tam, 2 microphones,
2 filters with potentiometers
(6 players) U. E
136 €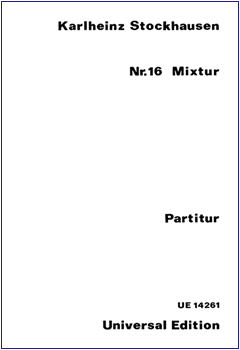 MIXTUR
for orchestra, 4 sine-wave generators
and 4 ring modulators
(cond.) / sound proj. U. E
54 €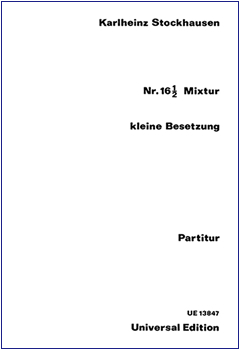 MIXTUR
for small orchestra (fl. / ob. / cl. / bsn.
/ 2 hn. / tp. / trb. / 3 perc. / 8 vl. / 4 vla. /
2 vc. / 2 db. / 4 generator players /
4 sound mixers / sound proj.)
(cond.) U. E
54 €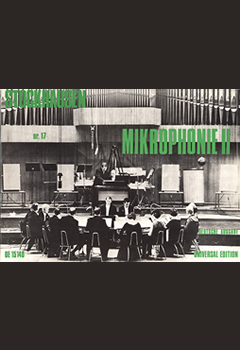 MIKROPHONIE II
for 12 singers, Hammond organ or
synthesizer, 4 ring modulators, tape,
(cond., time-keeper) / sound proj.
MIKROPHONIE II in German U. E
64 €
MIKROPHONIE II in English U. E
64 €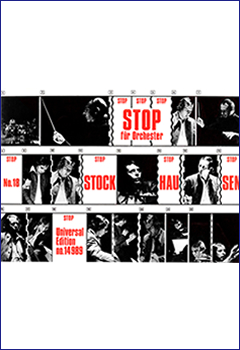 STOP
for orchestra (cond.) / sound proj. U.E
75 €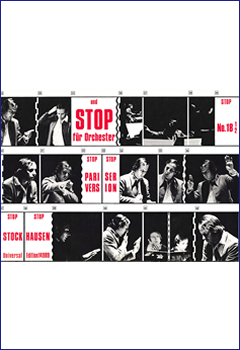 STOP
"Paris Version"
(19 players, cond. / sound proj.) U. E
75 €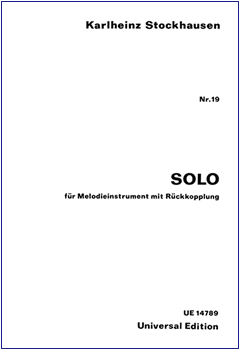 SOLO
for melody instrument with feedback
/ sound proj. [ 10 1/2 or 12 3/4' or
15 1/2' or 17'or 20' ] U. E
65 €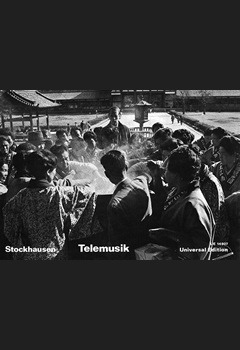 TELEMUSIK
German Score
electronic music / sound proj.
(score U. E., tape St.)
96 €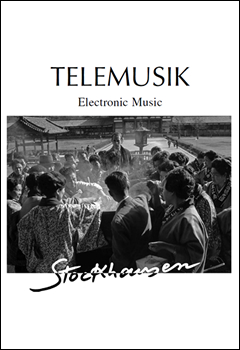 TELEMUSIK (TELEMUSIC)

new

English Score

electronic music / sound proj.
(score the Stockhausen-Verlag., tape St.)
96 €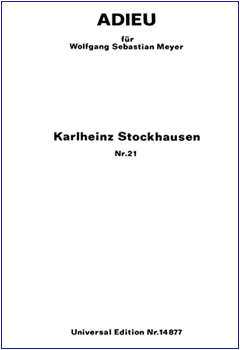 ADIEU
for wood-wind quintet (cond.) U. E
30 €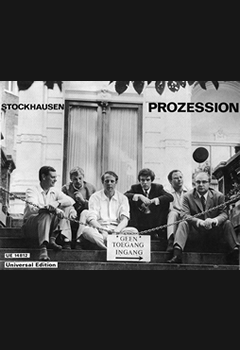 PROZESSION
for tam-tam, viola, electronium or
synthesizer, piano, microphonist,
filterer and level controller
(6 players) U. E
35 €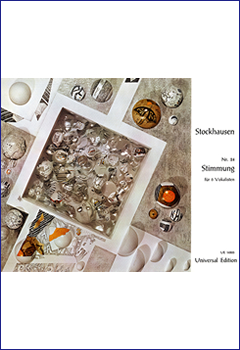 STIMMUNG
for 6 vocalists / sound proj. U. E
45 €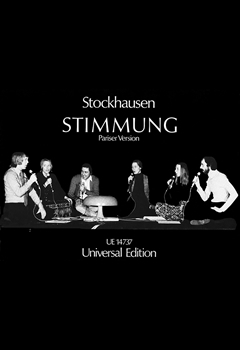 STIMMUNG
"Paris Version"
sound proj. U. E
75 €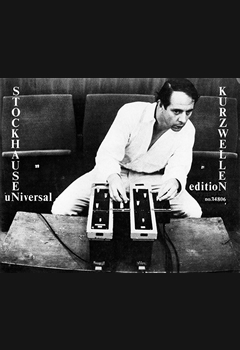 KURZWELLEN
for 6 players / sound proj. U. E
53 €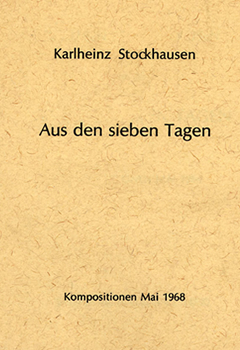 AUS DEN SIEBEN TAGEN
15 text compositions for intuitive music
U. E. (individually performable) with
German and English texts
20 €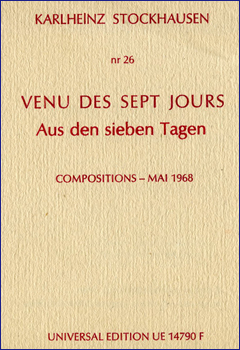 FROM THE SEVEN DAYS
15 text compositions for intuitive music
U. E. (individually performable)
with German and French texts U. E
20 €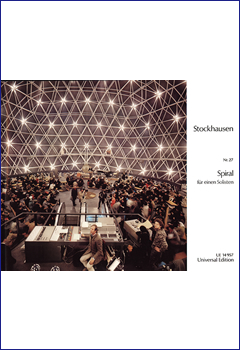 SPIRAL
for a soloist with short-wave receiver
/ sound proj. U. E
59 €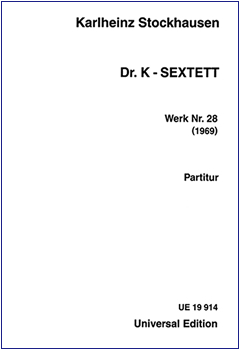 Dr. K-SEXTETT
for flute, violoncello, tubular bells
and vibraphone, bass clarinet,
viola, piano
Dr. K-SEXTETT score U. E
21 €
Dr. K-SEXTETT parts U. E
39 €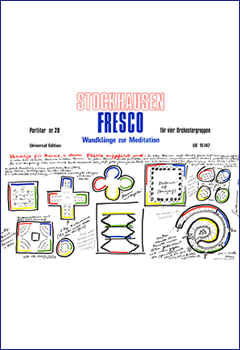 FRESCO
for 4 orchestra groups (4 cond.) U. E
50 €